Taking a long-distance train is not the fastest mode of transportation, but it's certainly much more relaxing than being crammed into flying metal tube with 150 of your closest friends. As long as you're not in a hurry, it's a great way to unplug, de-stress and maybe even meet some new friends. It's something everyone should experience, because there are few better ways to experience the country.
1. The Ever-Changing Scenery Is Unbeatable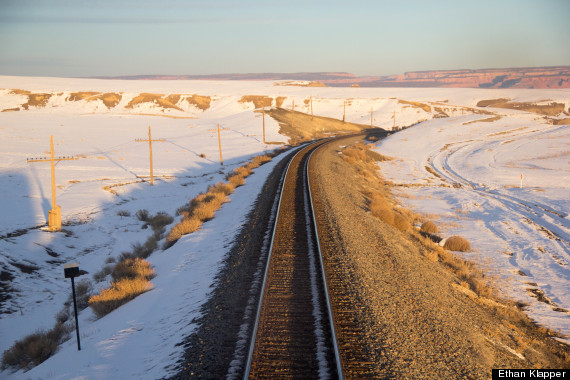 The desert of Eastern Utah is seen from the rear of Amtrak's California Zephyr
Sure, your Instagrams of airplane wings at sunset are pretty, but can you really appreciate the scenery below while traveling at 35,000 feet and 600 mph? There's no such thing as flyover country when you take the train. Our nation's geography is as gorgeous as it is diverse and there's no better way to experience it than by long distance train.
Start your day in the Great Plains. Eat lunch in the Rockies. Watch the sunset over the snow-covered Utah desert with Arches National Park in the distance. That's just another day aboard Amtrak's westbound California Zephyr, a daily train between Chicago and the San Francisco Bay Area.
For breathtaking views of the Pacific Ocean, don't miss the Coast Starlight between Los Angeles and Seattle. Sit on the left going north and on the right going south.
Amtrak's oft-delayed Empire Builder takes you through stunning Glacier National Park in daylight all year going eastbound and in the summer going westbound.
View 2. The Passengers